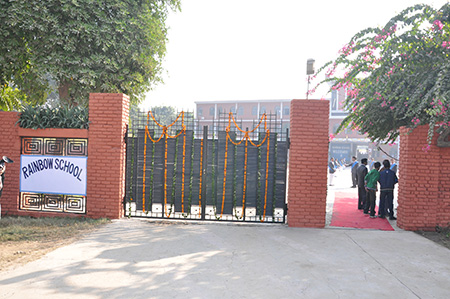 Welcome to Rainbow school
With vision and foresight, Mrs. Nargis Malik, founded the school in 1975 as a Nursery School in a single room. Today the 10+2 co-educational school, with 100% results, bears testimony to her vision and dedication.
The support of her husband Late Mr. M. M. Malik helped the school grow faster to reach this level. It caters to all kinds of students without discrimination to caste, color or religion. It is run by the Rainbow Educational Society and is affiliated to the Central Board of Secondary Education and follows all the norms of CBSE, Delhi.
Our Aims and Objectives
The school aims at an all round development of the child, with a view to producing good men and women, with integrity of character, high moral values and a nationalistic outlook. A holistic personality is inculcated in them through co-curricular activities and exposure to realistic situations. The main objective is to impart education to the students keeping in mind, the demands of the modern era and the great traditions and ideas of the Indian culture. The school helps the students to discover and develop their talents through academic excellence with wide syllabus, teaching aids and guided programs in all the fields.